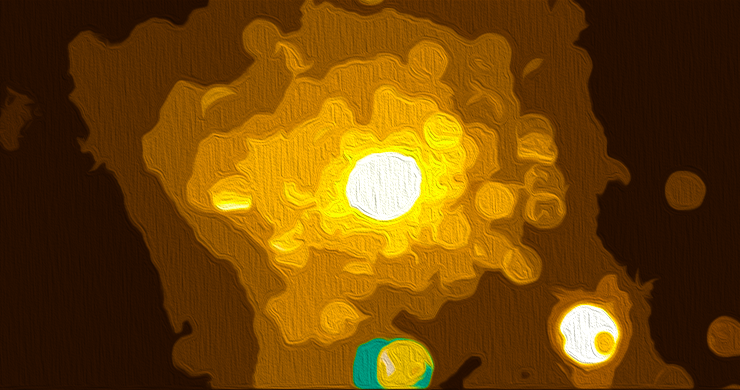 Introduction
Bitcoin.com, a pioneer in democratizing cryptocurrency access, is excited to announce the upcoming launch of its VERSE token on the Polygon PoS chain. This groundbreaking move follows the Verse community's first-ever direct vote, which showcases Bitcoin.com's commitment to community-driven decision-making and emphasizes the importance of decentralization.
Why Choose Polygon?
Bitcoin.com's decision to launch on the Polygon network aligns perfectly with its mission to enhance economic freedom through blockchain technology. Polygon is renowned for its low transaction costs and fast confirmation times, making it an ideal platform for trading, DeFi, web3 games, and more. This partnership will significantly expand the range of use cases for VERSE, attracting more participants to join the growing ecosystem.
Community Governance
Bitcoin.com would like to express its gratitude to the Bitcoin.com Verse community for actively participating in this crucial decision-making process. The overwhelming 71.67% of votes in favor of launching VERSE on Polygon demonstrates the community's commitment to the principles of decentralization and self-governance.
Dennis Jarvis, CEO of Bitcoin.com, stated, "This is more than just a technology play; it's a leap towards fulfilling our mission of democratizing financial freedom. We're incredibly excited about the new opportunities that launching on Polygon will bring to our community, and we're thankful for the strong show of support in our first-ever direct vote."
Next Steps
Bitcoin.com is currently in the advanced stages of integrating VERSE with the Polygon network and will provide updates in the near future. The community is encouraged to stay engaged as more exciting community votes are planned.
About Bitcoin.com
Bitcoin.com is dedicated to providing everyday people with access to a wide range of opportunities for personal prosperity without limits. Since 2015, Bitcoin.com has been a global leader in introducing newcomers to cryptocurrency, offering accessible educational materials, timely and objective news, and user-friendly fully self-custodial products for buying, spending, trading, investing, and earning with crypto.
About VERSE
VERSE is the rewards and utility token for users who contribute to and participate in the Bitcoin.com ecosystem. Launched in December 2022, the VERSE token aims to expand access to decentralized finance and unlock the economic freedom it provides. Since its launch, VERSE has rapidly integrated into web3 platforms, as demonstrated by recent partnership and integration overviews in August and September.
Frequently Asked Questions
Is it a good retirement strategy to buy gold?

Although it may not look appealing at first, buying gold for investment is worth considering when you consider the global average gold consumption per year.
The most popular form of investing in gold is through physical bullion bars. But there are many other options for investing in gold. It's best to thoroughly research all options before you make a decision.
If you're not looking to secure your wealth, it may be worth considering purchasing shares in mining equipment or companies that extract gold. Owning gold stocks should work well if you need cash flow from your investment.
ETFs allow you to invest in exchange-traded funds. These funds give you exposure, but not actual gold, by investing in gold-related securities. These ETFs usually include stocks of precious metals refiners or gold miners.
What are some of the advantages and disadvantages to a gold IRA

An Individual Retirement account (IRA) is a better option than regular savings accounts in that interest earned is exempted from tax. An IRA is a great way to save money and not have to pay taxes on the interest you earn. However, there are also disadvantages to this type of investment.
For example, if you withdraw too much from your IRA once, you could lose all your accumulated funds. You may also be prohibited by the IRS from making withdrawals from an IRA after you turn 59 1/2. You will likely have to pay a penalty fee if you withdraw funds from an IRA.
The downside is that managing your IRA requires fees. Many banks charge between 0.5%-2.0% per year. Others charge management fees that range from $10 to $50 per month.
Insurance is necessary if you wish to keep your money safe from the banks. Most insurers require you to own a minimum amount of gold before making a claim. Some insurers may require you to have insurance that covers losses up $500,000.
If you are considering a Gold IRA, you need to first decide how much of it you would like to use. Some providers limit the number of ounces of gold that you can own. Others let you choose your weight.
You'll also need to decide whether to buy physical gold or futures contracts. Physical gold is more expensive than gold futures contracts. Futures contracts offer flexibility for buying gold. They let you set up a contract that has a specific expiration.
Also, you will need to decide on the type of insurance coverage you would like. The standard policy doesn't provide theft protection or loss due fire, flood, or earthquake. It does include coverage for damage due to natural disasters. You might consider purchasing additional coverage if your area is at high risk.
Apart from insurance, you should consider the costs of storing your precious metals. Storage costs will not be covered by insurance. Safekeeping costs can be as high as $25-40 per month at most banks.
To open a IRA in gold, you will need to first speak with a qualified custodian. A custodian maintains track of all your investments and ensures you are in compliance with federal regulations. Custodians don't have the right to sell assets. Instead, they must retain them for as long and as you require.
Once you have chosen the right type of IRA to suit your needs, it is time to fill out paperwork defining your goals. Information about your investments such as stocks and bonds, mutual fund, or real property should be included in your plan. Your monthly investment goal should be stated.
After filling in the forms, please send them to the provider. The company will then review your application and mail you a letter of confirmation.
When opening a gold IRA, you should consider using a financial planner. A financial planner can help you decide the type of IRA that is right for your needs. They can help you find cheaper insurance options to lower your costs.
What are the fees for an IRA that holds gold?

The Individual Retirement Account (IRA), fee is $6 per monthly. This fee covers account maintenance fees, as well any investment costs that may be associated with your investments.
If you want to diversify, you may be required to pay extra fees. These fees can vary depending on which type of IRA account you choose. Some companies offer checking accounts for free, while others charge monthly fees for IRA account.
In addition, most providers charge annual management fees. These fees are usually between 0% and 1%. The average rate for a year is.25%. These rates can often be waived if a broker, such as TD Ameritrade, is involved.
Statistics
External Links
How To
The best way online to buy gold or silver

Before you can buy gold, it is important to understand its workings. It is a precious metal that is very similar to platinum. It's very rare and is used as money because of its durability and resistance to corrosion. It is hard to use, so most people prefer jewelry made of it to real bars of gold.
There are two types today of gold coins. One is legal tender while the other is bullion. Legal tender coins are those that are intended for circulation in a country. They typically have denominations of $1, $5 or $10.
Bullion coins can only be used as investment currency. They increase in value due to inflation.
They cannot be used in currency exchanges. A person can buy 100 grams of gold for $100. Each dollar spent earns the buyer 1 gram gold.
When looking to buy precious metals, the next thing you should be aware of is where it can be purchased. You have a few options to choose from if you are looking to buy gold directly through a dealer. First, your local currency shop is a good place to start. Another option is to go through a reputable site like eBay. You may also be interested in buying gold through private sellers online.
Private sellers are individuals that offer gold at wholesale or retail prices. You pay a commission fee between 10% and 15% for each transaction when you sell gold through private sellers. That means you would get back less money from a private seller than from a coin shop or eBay. This option is often a great one for investors in gold, as it gives you greater control over the item's value.
Another option for buying gold is to invest in physical gold. Although physical gold is easier to store than paper certificates you will still need to ensure it is safe. It is important to keep your physical gold safe in an impenetrable box such as a vault, safety deposit box or other secure container.
To purchase gold by yourself, you can visit a bank and a pawnshop. A bank will provide you with a loan that allows you to purchase the amount of gold you desire. These are small businesses that let customers borrow money against the items they bring to them. Banks typically charge higher interest rates than pawn shops.
Another way to purchase gold is to ask another person to do it. Selling gold is also easy. You can contact a company like GoldMoney.com to set up an account and receive payments right away.
—————————————————————————————————————————————————————————————-
Based on [POSTTITLE]
by [POSTAUTHOR]